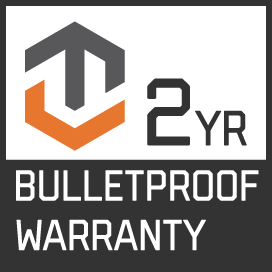 TargetVision Bulletproof Warranty
The Targetvision bulletproof warranty will protect your camera for 2 years from stray shots while at the range.  Whether you have your DOPE wrong (which we know never happens...) or your neighbor decides to see what happens when he shoots that little box down range, we have you covered.  
Under this warranty, Targetvision will repair or replace any camera system purchased along with this warranty that has been shot while at the range. Simply ship your system back to us (you pay the shipping to us) we'll fix it like new and ship it back to you.
Please Note:
Each Bulletproof Warranty applies to only one camera.  If you purchased a multi-camera system, you will need to purchase one warranty for each camera.  If you purchase fewer warranties than cameras they will apply in order of the camera numbers (1 warranty applies to camera 1, 2 warranties will apply to cameras 1 and 2, etc.)
---
Share this Product
---
More from this collection